About Element Farms
Element Farms is a hydroponic baby leafy greens grower in Florence, New Jersey. Serdar Mizrakci, the Founder and CEO of Element Farms, began creating the company's highly automated process for growing hydroponic spinach while he was an MBA student at Cornell University. With the support of eLab, Cornell's start-up accelerator, Serdar grew his research project into a fully-fledged business. Their product line has expanded to include arugula, kale, and mustard green mixes. However, their baby spinach with micro spinach mix – the one that inspired it all – remains their best-selling product.
Today Element Farms' leafy greens are distributed by 12 high-end retailers in New York City and Philadelphia. To keep up with the growing demand for their spinach mixes, Element Farms is planning a phased expansion to a new, larger greenhouse in Q2 of 2019. Element Farms also has an equity crowdfunding campaign that will be active until the end of March.
Consistently Maintains 14-Day Crop Cycle
Exceeds Yield Goals While Minimizing Energy Use
Produces High-Quality Leafy Greens Year-Round
Designing for Optimal Growth
Serdar and Danny Janeczko, Element Farms' CTO, spent two years developing the company's proprietary growing and harvesting system.
The original goal of Serdar's research project was to design a scalable system that would mitigate common plant disease issues that growers often encounter with delicate greens like spinach. The system's design has been further refined to reduce operational costs and increase yields compared to conventional hydroponics.
"We wanted to change the rule of thumb for small scale farming and make it profitable as well. Our process is designed around the optimum way of growing," explains Serdar, "There weren't a lot of off the shelf equipment options available that met our process' requirements. As a result, the system is very customized."
"Not only do smartPARTM's current features align with our technical goals, but we were able to establish an ongoing relationship with LumiGrow Research."
Critical Lighting Automation
Since baby leafy greens require a high DLI for consistent optimal growth, supplemental lighting is a crucial component of Element Farms' growing system. When it was time to select a lighting system, it was important to Serdar and Danny that their fixtures could match the high performance of the rest of their equipment.
Neil Mattson, their academic advisor and longtime research partner to LumiGrow Research, recommended LumiGrow fixtures. Serdar was intrigued by the LumiGrow smartPARTM Wireless Control Software and LumiGrow Light Sensor's capabilities.
"Automation is an important part of the process we developed, which is why we were interested in what LumiGrow is achieving with the integration of sensors and decision-making algorithms," says Serdar, "It made sense to partner with the folks at LumiGrow instead of building out those sensors ourselves."
Easy Energy Efficiency Management
Element Farms has been using LumiGrow fixtures for over a year, spanning more than four growing seasons. They run their fixtures year-round to extend their plants' photoperiod.
"The smartPAR platform is very capable. The LumiGrow lights are quick to adapt to the natural light conditions in real-time," says Serdar, "We don't get the same reaction speed from our HPS fixtures, which are controlled by an Argus control system connected to a central light sensor in the greenhouse.
"It's hard to manage the HPS fixtures' energy efficiency and we often overshoot the light target. We have to make adjustments to our HPS lighting on almost a daily basis to make sure we don't overspend on electricity. We only need to look at the LumiGrow fixtures' lighting data at the end of each week. "
"It's very comforting to know that we can rely on the research team at LumiGrow to give us more insights on how we can grow smarter. We don't get that type of insight or customer service from other suppliers."
Serdar never seriously considered going with a different LED manufacturer.
"A lot of companies claim to have very high-efficiency fixtures, but not all of them understand what we're trying to achieve from a technical standpoint," says Serdar, "Not only do smartPAR's current features align with our technical goals, but we were able to establish an ongoing relationship with LumiGrow Research ."
LumiGrow Research works closely with Element Farms to explore new growing techniques and continue to improve their growing system's energy efficiency and yields.
Outperforming Initial Production Goals
Element Farms' custom production system grows their baby leafy greens from seed to harvest in exactly 14 days. Serdar and Danny are pleased to see that their production system is outperforming their initial production goals.
"It's very comforting to know that we can rely on the research team at LumiGrow to give us more insights on how we can grow smarter," says Serdar, "We don't get that type of insight or customer service from other suppliers. We think of LumiGrow as more than just a supplier – we consider them a business partner."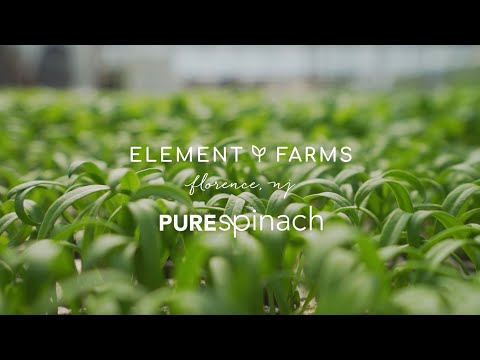 Summary
Issue. Needed a controllable, energy-efficient lighting solution to extend photoperiod and meet DLI targets throughout year
Solution. Installed LumiGrow fixtures with smartPARTM for Greenhouse Wireless Control System
Results. Lighting system consistently maintains 14-day crop cycle; exceeds yield goals while minimizing energy use